PODCAST | Chiara Nicoletti intervista Paola Traversi, responsabile servizi educativi del Museo Nazionale del Cinema di Torino | Young Audience Awards 2017
Per ascoltare questa intervista, clicca su ► sopra la foto
Paola Traversi, responsabile servizi educativi del Museo Nazionale del Cinema di Torino torna su FRED per annunciare l'imminente Young Audience Film Day, il giorno dedicato al Young Audience Award dell'European Film Academy. Domenica 7 Maggio infatti, una giuria selezionata di ragazzi tra i 12 e il 14 anni appassionati di cinema si riunirà al Cinema Massimo, in contemporanea con le altre 36 giovanissime giurie in tutta Europa assisterà alla proiezione dei tre film finalisti, Goodbye Berlin (Tschick) di Fatih Akin, The Girl Down the Loch Anzi (Das Mädchen vom Änziloch) di Alice Schmid e My Life as Zucchini (Ma vie de Courgette) di Claude Barras e in seguito a dibattiti, conversazioni in chat e videoconferenza con i registi, deciderà il vincitore.
Sono 31 i paesi che partecipano al progetto quest'anno e il Museo Nazionale del Cinema di Torino è stato tra i primi partner dell'EFA in questa mission di alfabetizzazione cinematografica. Oltre a FRED in questo progetto, EDUC.a SERVIZI EDUCATIVI del Museo può contare anche su Rai Gulp, Sub-ti e Novacoop.
Il Young Audience Film Day non è l'unica iniziativa di Maggio per la sezione Servizi Educativi del Museo Nazionale del Cinema di Torino. L'11 maggio i ragazzi assisteranno alla visione della versione restaurata, in collaborazione con la Cineteca Nazionale di Roma, di I Promessi Sposi, film del 1913 a cui farà seguito un quiz alle classi con domande sul confronto tra il romanzo e il film e sulla trasposizione cinematografica muta restaurata. Sempre l'11 maggio il Museo e CinemAutismo organizzano una speciale proiezione gratuita riservata agli studenti delle scuole secondarie di II grado del film Jane Wants a Boyfriend. Ancora a maggio, il 17, l'ultimo appuntamento con la rassegna cinematografica curata dagli studenti che hanno partecipato al progetto Vado al Massimo! Il Cineclub dei ragazzi: cinque film selezionati, recensiti e presentati al pubblico dai ragazzi delle scuole secondarie di I grado.
YOUNG AUDIENCE FILM AWARD. Dal 2012 l'European Film Academy promuove in varie città d'Europa l'evento YOUNG AUDIENCE AWARD: 3 film europei pensati per il giovane pubblico. L'edizione 2017 ha raggiunto un record di ben 31 paesi coinvolti. Durante lo YOUNG AUDIENCE FILM DAY, che quest'anno svolgerà domenica 7 maggio, 36 giurie europee composte da ragazzi dai 12 ai 14 anni si riuniranno per vedere insieme i 3 film nominati. Saranno proprio i giovani spettatori di tutta Europa a votare, immediatamente dopo le proiezioni, il film vincitore dello YOUNG AUDIENCE AWARD. L'evento avrà luogo in contemporanea in 36 città di 31 paesi europei, che dialogheranno tramite un collegamento live coordinato da Erfurt (Germania). Una volta raccolti i risultati nazionali dai rappresentanti di tutte le giurie, si svolgerà una cerimonia di premiazione, visibile in diretta in streaming sul sito ufficiale dello YAA.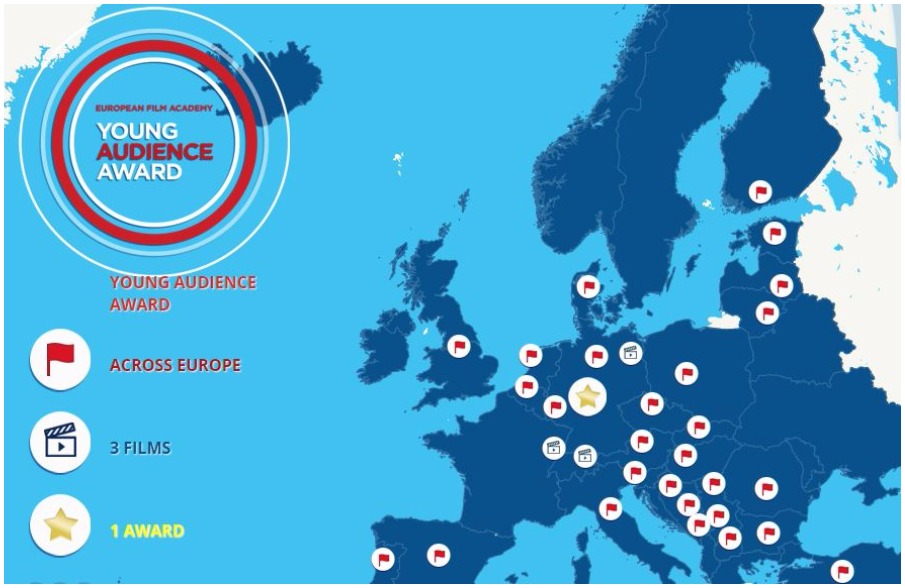 Standard Podcast
[ 15:46 ]