(A transcript of FRED's Chiara Nicoletti's interview with Todd Haynes, director of Carol.)
FRED: Carol is based on a book by Patricia Highsmith, and the script was written by Phyllis Nagy.
TODD HAYNES: Yes, this was the first film that I have ever directed that I did not write myself or originate myself. It actually has had a very long history. They have been trying to get this film made, this novel adapted into a film for years. And only in the last four to five years did Elizabeth Carlson, the English producer, come on board and sort of breathe new life into it. She brought it to me May of 2013, and at that point there was a beautiful script, and Cate Blanchett was attached to play Carol. When I read it for the very first time, I just saw Cate in the role. So I already started to see the movie right away.
FRED: You are the master of melodrama, so did you treat the love story between two women somehow differently from what you normally do?
TODD HAYNES: What was very interesting to me about this book and story was that, to me, it was first and foremost a love story that was sort of a universal love story that everybody could understand regardless of their sexual orientation or their sex. And what I also started to think about is that it is quite different from the classic melodrama like the "Douglas Sirk melodrama" that I had explored previously in Far From Heaven because point of view is so important to great love stories. Who are you close to? Whose head are you inside and whose eyes are you seeing through to the object of desire? And in Carol that begins with Therese, but things happen in the course of the story that also shifts that point of view. So point of view was something that I thought about a great deal. And the Sirkian melodrama doesn't use point of view in that way. It is very objective. You are looking at the world very rigidly. For me, it was a new experience.
FRED: Was it different to work as director on a film you didn't write the script for?
TODD HAYNES: It is not that different except that for just the time. It all was a little more accelerated. The films I write, I have much more time to work on, develop, research, try to get finance myself, all of those things. But even when you write your own script, you kind of have to keep discarding. And even though you wrote the words, once they are filmed it is a new thing and you have to be kind of almost ruthless with the material and be like, no, now it's this. I have to deal with this. I think the only way to make a good film is to keep discarding what it is. It doesn't matter really whether you wrote it or somebody else wrote it.
FRED: This is your second film set in the '50s. Did it happen casually or is that you like and also look for period films?
TODD HAYNES: That obviously came with the material. It wasn't my choice. But what I learned very quickly once we began researching the period is that it is a completely different 1950s than the one we explored in Far From Heaven. It is early 1950s. It is urban 1950s New York City and the country before the Eisenhower administration had really taken office and started to change America into that classic '50s shiny world that Sirk really deals with so specifically in his movies. This is a very different time, a very transitional period, post-war period. So that was exciting that it made you realize there is not just one 1950s, there were many 1950s, and this brought up all kinds of different specific visual elements and style elements to explore.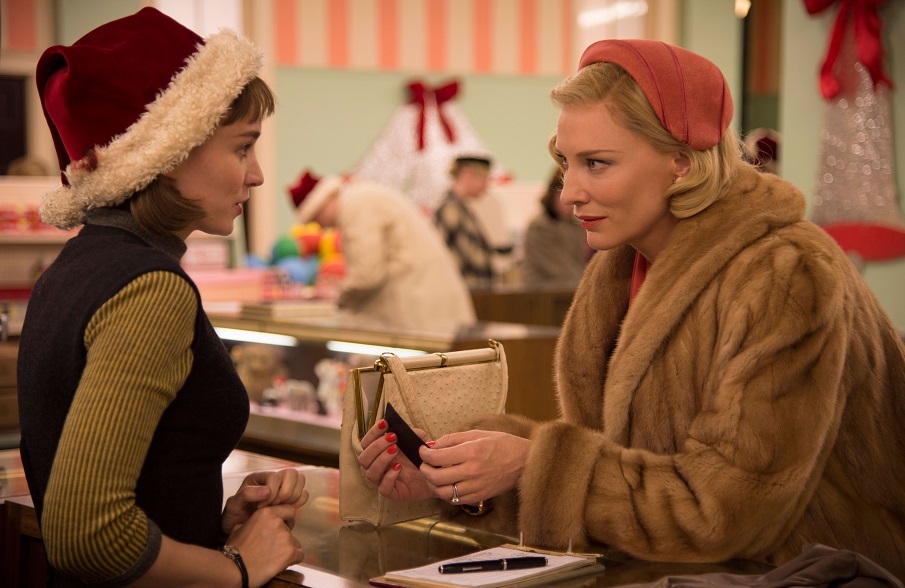 FRED: Speaking of style, colour is also very important in the film.
TODD HAYNES: The colours – again, the colours in Carol and the palette of color, the spectrum of color was a very different one than in Far From Heaven or in other films. A lot of it really came from the historical research we were doing and the photojournalism from the period. The stills colour photography that was being done in early '50s and maybe even the colour process from that time brought an interesting muted palette. So it is not the stoplight bright colors of Sirk or other films. And I love that. This is the fourth project I've done with Ed Lachmann, the director of photography. We had worked in Super 16 on our last film, Mildred Pierce, which was broadcast on HBO, and we loved that experience. It brings the grain into the language of the colour as well and it affects the colour, too. There is a dirtier palette. So there are still flashes of accents like in Carol's wardrobe, lipstick, scarves, but they are exceptions to the general more grey muted colour palette.
FRED: Ed Lachmann actually described the style you are talking about as poetic realism. Can you describe it?
TODD HAYNES: It is hard to find a language exactly for what it was. It is not that very stylized and in some sense overtly expressionistic style of the melodrama, the Sirkian language. It explores naturalism, in a subjective way. Realism is a tricky term in film and I don't think anything about the movie is based on traditions of the verity, docudrama, things of that sort, because everything is very subjective. So many of the shots are through glass, windows, cars, or Therese's camera lens, you know, where the act of looking, one character looking at the other, is foregrounded.
FRED: This is obviously a movie set in the '50s, but still I would like to know if you think there is something that hasn't changed since then.
TODD HAYNES: Love, maybe, and the way no matter what period you are in, where you are in time, history, culture, that kind of tunnel that you enter when you are falling in love is the same tunnel for everybody. They are cut off from the world. They are living in this sort of hall of mirrors where every little detail, every little clue about what the other person feels gets magnified and interpreted. And you kind of fester in this world and you try to analyze… "what is my fate?"… "Do they love me back?"… That distortion starts in the book. It is so well described in the book and it makes the subject of Therese in The Price of Salt [original title of the 1952 novel] very akin to the criminal subjects in all of Patricia Highsmith's other novels. So it is almost like the amorous imagination and the criminal imagination have that same overproductive insanity, really.
FRED: Cate Blanchett and Rooney Mara are perfect together. How did you find the chemistry between them?
TODD HAYNES: Chemistry is something no director or actor I think really knows how to create. I think chemistry is in the – it is one of the things, one of the many things that viewers think they are being given, but actually I think they are producing it. I think it is in the imagination of the viewer. Our job is to give the clues and the conditions and maybe enough restraint and obstacles to desire so that you want them to be together. It's a balancing of all of those conditions and then the chemistry is what you bring to the movie.