PODCAST | Chiara Nicoletti e Federico Spoletti intervistano Chiara Valenti Omero, Presidente AFIC – Associazione Festival Italiani di Cinema.
Per ascoltare questa intervista, clicca su ► sopra la foto
AFIC, l'Associazione Festival Italiani di Cinema, nelle scorse settimane ha diffuso un sondaggio rivolto a tutti gli eventi di cinema presenti sul territorio per raccogliere ulteriori dati sull'attuale situazione che sta vivendo l'ambito festivaliero a seguito dell'emergenza sanitaria, ricostruendo così una più precisa mappatura aggiornata di quel che succede in ogni Regione italiana.
La Presidente dell'Associazione, intervistata a The Soup of The Day, il Morning Show di FRED, ci parla dei risultati.
Al sondaggio hanno aderito 114 manifestazioni, di cui 73 associate AFIC e 41 non associate, a dimostrazione del grande momento di unità che unisce in questa delicata situazione tutto il settore. I dati sono stati raccolti nel periodo dal 24 marzo al 20 aprile 2020, in un frangente di tempo di grande incertezza generale che finora ha costretto 16 festival AFIC a rimandare o sospendere le proprie edizioni. Tra le principali problematiche individuate dai Festival che hanno aderito al sondaggio, emergono l'aggravio economico dovuto al lavoro supplementare del personale, i costi di annullamento viaggi, affitto spazi e la nuova logistica figlia della situazione attuale, oltre a numerose difficoltà dettate dall'incertezza finanziaria e organizzativa legata alle disposizioni che limiteranno la partecipazione del pubblico.
Nata nel 2003, AFIC – Associazione Festival Italiani di Cinema è un polo di aggregazione di quelle manifestazioni cinematografiche italiane che riconoscono l'importanza e il valore di far parte di un network informativo che sia anche luogo di scambio ed elaborazione progettuale. L'Associazione nasce per promuovere e far crescere le iniziative che hanno come scopo quello di migliorare la qualità artistica e l'efficacia comunicativa dei festival cinematografici italiani. Obiettivo di AFIC è quello di valorizzare e qualificare l'attività culturale e di studio dei soci dell'Associazione, ad oggi 73 festival di cinema italiani.
Per saperne di più sull'attività dell'AFIC – Associazione Festival Italiani di Cinema, clicca qui.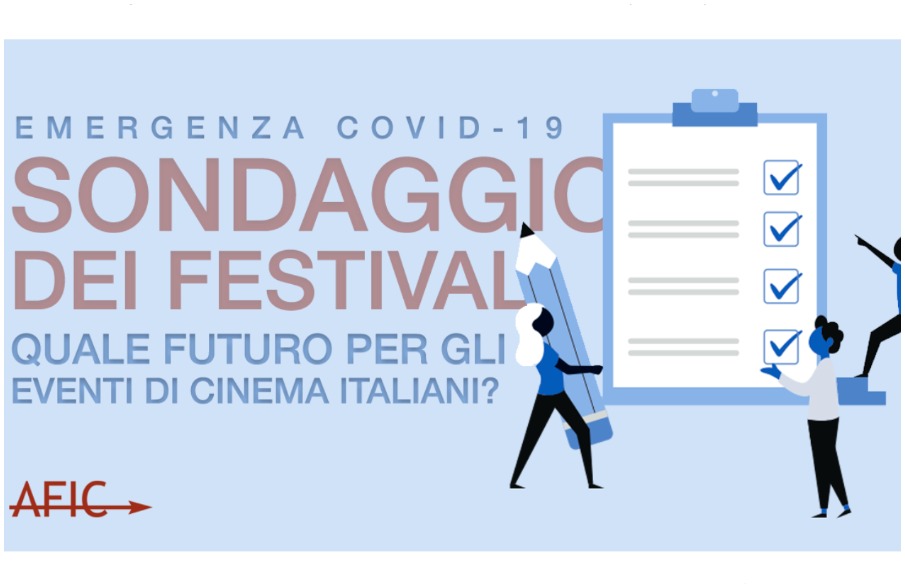 Standard Podcast
[ 16:59 ]